Thu., Jan. 24, 2013, 10:12 a.m.
Power Through: Hillary's Example
As baby boomers glide into their 60s and remain in their jobs a lot longer than their parents did, I predict a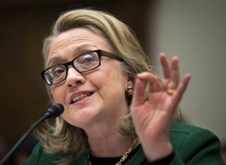 fairly macho attitude toward sick days. Older workers are more prone to the ailments that can afflict older people in general. Back troubles, heart issues, cancers that inconvenience you but don't kill you. Hillary, 65, looked pretty darn good this morning testifying in front of Congress. Less than a month ago, they were shrinking a clot from her brain. She's tough. This we know. But again, I predict aging boomers in the workplace will be more like Hillary than like the stereotype of older people complaining all the time about their ailments/Rebecca Nappi, End Notes. More here. (AP photo of Secretary of State Hillary Clinton testifying during congressional hearing on Benghazi Wednesday)
Question: Do you think sixtysomethings are tougher today than they used to be?
---
---