Fri., Jan. 25, 2013, 5:04 p.m.
End Notes: Read The Fine Print
My husband and I jumped up, stumbled around, our son came into our room with his hands over his ears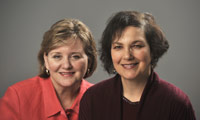 yelling our names, I tripped over Bella, our black German Shepherd as she came into the bedroom and then my tall husband grabbed the detector from the ceiling and ripped the battery out of it. We turned on the lights, looked around, sniffed for smoke, shrugged –and returned to bed. I replaced the battery the next day and put the detector back in its place. It went off at 3:34 a.m. the next morning. After taking the battery out AGAIN, I fumbled for my reading glasses and read the fine print on the back of the detector: "Unit should be replaced by 2006"/Catherine Johnston, End Notes. More here.
Question: Do you replace the batteries in your smoke detector regularly? Do you have fire extinguishers handy? Etc.
---
---