Fri., Jan. 25, 2013, 8:51 a.m.
Hoffman: Don't Mandate Cursive
When I was in sixth grade, my teachers insisted that I take calligraphy as my so-called "elective" course one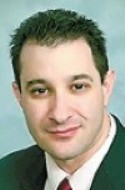 semester. I was so angry that I lifted my little brown winter coat up over my head and threw it at least a meter to the floor in front of me,thereby exposing my two fatal flaws: My handwriting is terrible and I can't throw very well. Still, being a dutiful student, for a time I managed to turn my signature scrawl into a work of art consisting of stylistic lettersand embellished loops. I made my teachers proud. For a semester, anyway. To this day, I don't write cursive, except to sign my kids' school permission slips. And when I'm compelled to do so, my official signature displays all the depth and skill of a sixth grader. I don't dislike Rep. Linden Batman's proposal to mandate cursive writing. But I'm not really a fan either/Wayne Hoffman, Idaho Freedom Foundation. More here.
Question: Do you support teaching mandatory cursive in school?
---
---