Fri., Jan. 25, 2013, 9:03 a.m.
Small County Fears Otter's Proposal
Molly Messick of StateImpact offers a compelling story today re: the devastation that would be caused to a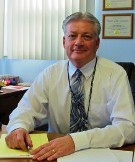 small Idaho county (Power County) if Gov. Butch Otter's reckless push to eliminate personal property taxes is approved by the Legislature. Messick interviews Power County Hospital Administrator Dallas Clinger (shown in StateImpact photo). Here's Clinger's response to one question: "Here's the bind Power County Hospital is in: local taxpayers help keep it afloat. An unusually large amount of the total taxable property in Power County is personal property. If that personal property is suddenly exempt, 40 percent of the tax base that brings revenue to Clinger's hospital will vanish. A break-even budget will fall into the red." More here.
Question: Do you agree/disagree with Otter's attempt to eliminate the personal property tax?
---
---