FRIDAY, JAN. 25, 2013, 11:31 A.M.
Subway Adds Inch Back To Foot Long
Subway is apologizing that its "Footlong" sandwiches fell short of expectations. The world's largest fast-food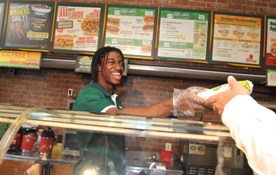 chain faced widespread criticism last week after a man posted a photo online showing a "Footlong" next to a tape measure that showed it to be just 11 inches. Subway said Friday that it's redoubling efforts to "ensure consistency and correct length" in all its sandwiches. The company had already noted last week that bread length could vary when franchisees don't bake to its exact specifications and that it would reinforce policies to ensure consistency/Associated Press. More here. (In 2011 AP file photo, Robert Griffin III, before becoming Washington Redskins QB, gets Subway sandwich from preparer)
DFO: Here's hoping Subway adds back the inch to its "foot-long" sandwiches but doesn't do away with its $5 foot-long specials. I ♥ those sandwiches.
Question: Who doesn't anyone complain that potato chip companies continue to charge the same price for smaller and smaller amounts of chips inside the bags?
---
---