Mon., Jan. 28, 2013, 1:23 p.m.
Knerl: Banff Festival Just The Ticket
Kim Knerl: Did anyone happen to make it over to the Kroc Center last night for the Banff Mountain Film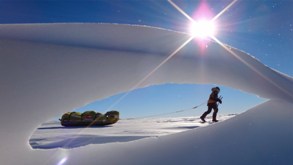 Festival? One of the short films on Sunday's agenda was a story about two young Australians who made a trip, unsupported, from the edge of Antarctica to the South Pole and back, traveling on skis while pulling sleds. It was an amazing documentary! Click here. The Banff Mountain Film Festival continues again tonight, with a completely different line-up. If you were not fortunate enough to get tickets to this sold out show, there were a few people with extras available outside the theatre last night, so you may get lucky if you head over to the Kroc Center around 5 pm. (Photo from Crossing the Ice video at Banff Film Festival)
Question: Anyone else out there see the Banff Mountain Film Festival last night? Or plan to see it tonight?
---
---