Mon., Jan. 28, 2013, 1:15 p.m.
Regan: 'I Am Not A Racist'
Coeur d'Alene School Trustee Brent Regan (pictured) has issued the following statement to a school district patron who criticized his anti-Obama joke at a legislative forum Saturday. The patron's criticism, Regan's response, and an editorial on racism by Regan are now online at the Coeur d'Alene Press site:
Brent Regan (to school constituent): "Thank you for taking the time to contact me. I assure you I am not a racist, as people who know me will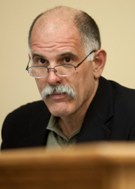 confirm. I am sure that if we got to know each other that you would also come to that conclusion. I believe that people should be judged by their actions and then their words but absolutely never by their race. This is the opposite of racism. I also believe a person is responsible for what they say, but not what others chose to infer from those words. Your suspicions of my narrow mindedness are unfounded as I rigorously encourage the consideration of all viewpoints in an attempt to craft a solution that is the best fit for a given situation. Prior to making my comments at the meeting I made a clear statement that I was participating as an individual, not as a Trustee, specifically to insulate others from my comments. It is unfortunate that was not also quoted as I would not presume to speak for others unless specifically directed to do so. More here.
Thoughts?
---
---