Tue., Jan. 29, 2013, 1:57 p.m.
Gissel Seeks Views Of Other Trustees
Norm Gissel, a long-time leader in the local human rights movement and an attorney that helped bankrupt the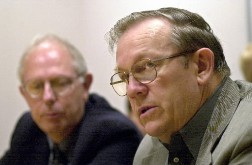 Aryan Nations, called on the four other members of the Coeur d'Alene School Board "to publicly express their own views regarding the recent public comments by their fellow trustee." In a short, prepared statement, Gissel noted that he has served on the North Idaho College Board of Trustees and on the board of the Coeur d'Alene Charter Academy. Said Gissel: "Serving a public education institution as a trustee is serious business heretofore reserved for serious people. School District 271 trustees have wanted our attention for some time. Now they have it." Gissel's complete statement here. (2010 SR file photo of Norm Gissel, with Tony Stewart in the background)
Question: Do you want the four other trustees of the Coeur d'Alene School Board -- Chairman Tom Hamilton, Ann Seddon, James Hightower and Terri Seymour -- to make their views on Trustee Brent Regan's racial "joke" about President Obama known?
---
---