Tue., Jan. 29, 2013, 9:37 a.m.
Goedde Pushing Revival Of Luna Laws
From Kestrel-West Morning Memo:
When the governor's education task force said 'no labor issues' it opened the door for the Legislature to act.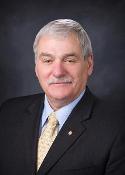 And act they did. Yesterday Idaho School Boards Association Director Karen Echeverria introduced four of seven labor-related bills to the Senate Education Committee. Committee Chairman John Goedde, R-Coeur d'Alene, acknowledged the challenge of resurrecting ideas rejected by voters. But he also questioned the merits of doing nothing to improve the public school system. "I don't think anyone believes the status quo is where we need to stay with schools." Click here. Boise Sen. Branden Durst aggressively questioned Echeverria during the bill introduction, but saved his most biting words for Twitter. Here's one of several Tweets he sent during the committee hearing: "It seems to me that if the ISBA is only doing the bidding of its locally elected school boards, then we need to change those school boards."
Question: Who do you trust more to decide what's best for Idaho schools -- the voters or Sen. Goedde, who was one of the key sympathizers of the voter-rejected Luna Laws?
---
---