The House Education Committee has voted 12-3 along party lines to introduce legislation reinstating two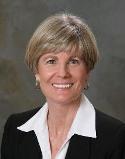 more provisions from the voter-rejected Proposition 1: Requiring that teacher contract negotiations be conducted in public, and allowing school districts to unilaterally impose contract terms if an agreement isn't reached in negotiations with local teachers unions by a June 10 deadline. The panel's three Democrats opposed the move. Rep. Janie Ward-Engelking, D-Boise, (pictured) said, "It bothers me that this particular bill was basically on the ballot and our constituents, voters spoke about this. I don't think I had a real problem with the public negotiations. But it seems to me that when you're negotiating and one side can enforce the last best offer at a given point, it kind of puts all the marbles on that person's side"/Betsy Russell, Eye on Boise. More here.
Question: In most other states, legislators who continue to flirt with voter-rejected law would be run out of office. In this state, Republican lawmakers can ignore the clear-cut will of the people and get re-elected handily. So is there anything to do about the chutzpah of Republican legislators who are bringing back the Luna Laws — other than shake our fists and gnash our teeth?