Wed., Jan. 30, 2013, 2:45 p.m.
Bypass Collects Another Accolade
The Sand Creek Byway has another accolade for its trophy case. The American Council of Engineering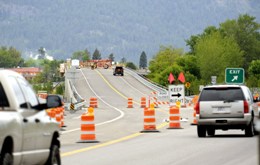 Companies of Idaho has picked the U.S. Highway 95 realignment project as the first-place winner for the 2013 Engineering Excellence Awards competition for transportation. The $112 million bypass project, which was completed last July after decades of debate, was designed by URS Corporation. Parsons RCI served as the project's general contractor. Parsons built the 2.1-mile-long alignment around the city of Sandpoint. The project consists of four steel-girder bridges, two of which span navigable waterways, and extensive erosion-control measures and mitigation of stormwater runoff into waterways/Bonner County Bee. More here. (SR file photo from last May, before bypass opened)
Question: The Sand Creek Bypass has been open for some time now. Any thoughts about it from you bypass users? Do you like it better? Or do you still wish they hadn't built it?
---
---