Wed., Jan. 30, 2013, 1:35 p.m.
Feds Indict Ridpath Developer
Federal authorities unsealed a 73-count indictment today, including bank fraud, money laundering and wire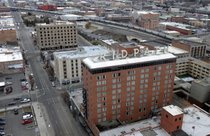 fraud, against a Spokane developer largely blamed for the complicated legal and financial mess of the Ridpath Hotel. Gregory D. Jeffreys, 53, is currently being held in the Spokane County Jail. Also charged is his wife, 53-year-old Kimberly Jeffreys, who faces 25 federal charges. The 51-page indictment also lists 29 counts against Shannon Stiltner, 51, who worked with Jeffreys and was previously described in court records as Gregory Jeffreys' girlfriend. All three are expected to appear today before U.S. Magistrate Judge Cynthia Imbrogno after the indictment was unsealed this morning/Thomas Clouse, SR. More here.
Question: Anyone spend any memorable moments at the Ridpath?
---
---