Wed., Jan. 30, 2013, 3:38 p.m.
Nuxoll Links Exchange To Holocaust
As the debate over Idaho Gov. Butch Otter's proposed state health insurance exchange heats up, a North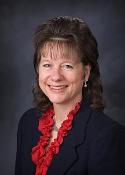 Idaho senator has sent out a mass email and posted a message on Twitter comparing the role of insurance companies to "the Jews boarding the trains to concentration camps," saying the federal government is using private insurers and in the future will "pull the trigger" on them. Sen. Sheryl Nuxoll, R-Cottonwood, (pictured) defends her analogy. "I just want people to hear the truth and to be aware that what is being presented before us is a socialistic program," Nuxoll said Wednesday. "There is no disrespect for any group or people with the analogy/Betsy Russell, Eye on Boise. More here.
Question: Are you serious?!
---
---