Wed., Jan. 30, 2013, 9:10 a.m.
Sheriff, Tribe Discuss Agreement
Sheriff Dave Resser (pictured) met with Coeur d'Alene tribal officials recently to discuss changes to the cross-deputization agreement between Benewah County and tribal police. Sheriff Resser plans to add two changes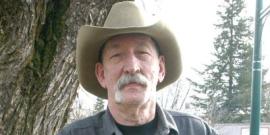 to the current agreement, instituted by former Sheriff Bob Kirts. Tribal officers acting as county deputies will use the county frequency for radio communication. Second, the tribal police will share reports generated about an incident in which the county is involved. Sheriff Resser, who was elected in November, campaigned on making the changes to the cross-deputization agreement with the tribe. Sheriff Resser said he was pleased with the meeting with tribal leaders. "We discussed our views and I mentioned that law enforcement doesn't need to be politically motivated," he said. "Our goal is public safety, regardless of the politics"/Mary Orr, St. Maries Gazette Record. More here. (St. Maries Gazette Record file photo)
Question: Am I right in thinking that the new Benewah County sheriff may be ushering in a new era of cooperation with the tribe? Are is it too soon to be optimistic?
---
---