Isn't Obama black and scary-looking? You know he's black, right? And scary-looking, naturally. Nothing racist about pointing that out. Goes without saying. But hey – race relations are tricky and ever-changing. It can be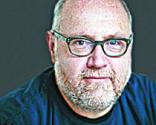 hard to keep track of what is, and what is not, racist. Brent Regan is here to help. Regan, a member of the Coeur d'Alene school board, has recently gone public to reassure us all that it is not racist to say Obama is black and scary-looking. Nothing could be further from racist than saying Obama is – like an assault rifle – black and scary-looking. If you think it's racist to say Obama is black and scary-looking, it might be that you're actually a racist yourself. Regan recently made the following comment at a forum on God-given assault-rifle rights in Coeur d'Alene, referring to supporters of gun control: "My wife and I were having this conversation and I said, 'They can't figure out what an assault weapon is – it's just black and it looks scary. And she looks at me and says, 'Well, so is Obama.' " Ha! In addition to being hilarious, this, Regan assures us, is not racist/Shawn Vestal, SR. More here.
Question: What's your definition of "racist" and "racism"?