Tue., July 2, 2013, 8:29 a.m.
Celtics: Olynyk Not For Sale
Boston Celtics general manager Danny Ainge understands why other teams keep calling to see if he will trade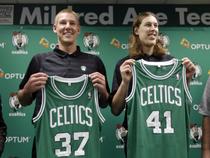 Rajon Rondo or even his newest player, former Gonzaga University standout Kelly Olynyk. The Celtics traded away coach Doc Rivers to the Los Angeles Clippers for a first-round draft pick. And a deal to send the team's biggest stars, Paul Pierce and Kevin Garnett, to the Brooklyn Nets for a package including three more No. 1 picks is just waiting for the NBA signing period to begin. "Maybe the assumption is that we'll give away any of our players," Ainge said on Monday, listing not just Rondo but Jeff Green, Courtney Lee, Brandon Bass, Jared Sullinger and first-round draft pick Olynyk as players who have attracted interest. "There's been calls for all those guys. And maybe the assumption is we are just changing everybody, but we're not. "We're starting to get younger"/AP. More here. (AP photo: Colton Iverson, left, and Kelly Olynyk had few choices when it came to numbers)
Question: Do you follow the careers of former Zags who play in the NBA?
---
---