Tue., July 2, 2013, 4:08 p.m.
Corkill Appointed To F&G Commission
"I tie my own flies, load my own ammunition, I shoot a long bow, I shoot a muzzle loader, I've got a bass boat," new North Idaho Fish & Game Commissioner Brad Corkill said today. "I've carried a firearm in the fall every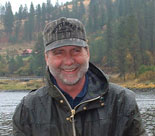 year since I was 8 years old. … I just want to make sure that all the generations that come after me have access to the same experiences I've had." Corkill, 62, is a former longtime school board member in Kellogg and St. Maries, served as Kootenai County Republican Central Committee chairman from 2006 to 2010, and is the incoming president of CASA, the court-appointed special advocate program that advocates for children who end up in protective custody. He served six years on the state's charter school commission, a position he had to resign to join the Fish and Game Commission/Betsy Russell, Eye on Boise. More here.
Question: Is Corkill a good pick for F&G commission?
---
---