Tue., July 2, 2013, 1:07 p.m.
Geese Fowling Lewiston Area Parks
Asotin resident Charlotte Tuttle detoured from the usual Asotin County Commissioners meeting Monday to let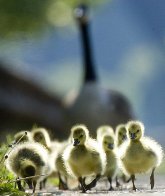 them know what's on the mind — and feet — of people visiting parks along the Snake River near Lewiston and Clarkston: "We've got goose poop up to our ankles and mandates up to our eyeballs," Tuttle said, according to the Lewiston Tribune. Tuttle said there are so many geese along the river near Swallows Park that people can no longer swim at the park or walk on the bike path without encountering gobs of goose waste. Butch Aiken - emergency services director for the county - said anytime there's a trouble-making goose in the Seattle-Tacoma area, it's brought to eastern Washington, and now those geese are causing problems on U.S. Army Corps of Engineers property near the river/Rich Landers, SR Outdoors. More here.
Question: Am I the only one who avoids the northern end of North Idaho College beach due to the ducks, geese that hang out there in number -- and load up the waterfront with poop?
---
---