Thu., July 11, 2013, 8:55 a.m.
Washington Friends Win NIC Raffle
Ken Kiehn and Wayne Kenny are on a lucky winning streak. The friends from Nine Mile Falls, Wash., won the grand prize in North Idaho College's Really BIG Raffle - a $255,000 house. Ken and his wife, Cheryl, both 63,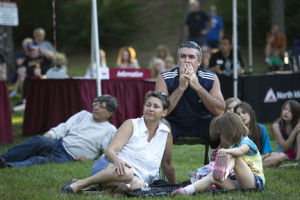 received the news via phone call after the raffle Wednesday evening. At first, Ken thought it was a joke because friends called him a few years ago pranking him with a similar tale. But once NIC Foundation Executive Director Rayelle Anderson explained that they were in fact winners, the shrieking ensued. "Are you kidding me? We never win anything!" Cheryl exclaimed. The Kiehns were not alone in their victory. Ken and his friend Wayne Kenny invested in two of the $100 raffle tickets together. They won money in a football pool, followed by a $250 Super Bowl win earlier this year. They decided to take that money and try their luck in the Really BIG Raffle, using Kenny's "lucky" name on the entries in each contest. Kenny's name proved, once again, to be charmed/Devin Heilman, Coeur d'Alene Press. More here. (Gabe Green Coeur d'Alene Press photo: Len Newton waits in anticipation with his wife Dawn, left, and daughter Jessica, in the minutes before raffle tickets are drawn)
Question: Have you ever bought a ticket for the Really BIG Raffle at North Idaho College?
---
---