Fri., July 12, 2013, 3:20 p.m.
Interim UI Prez Burns Midnight Oil
University of Idaho Interim President Don Burnett has been burning the midnight oil since taking over the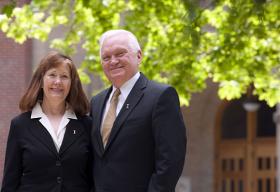 leadership of the university from Duane Nellis. He's had a full schedule since his first day on the job on June 1. Drop Don Burnett a line and with his schedule he's apt to answer you at almost any time, including at 10 p.m. on a Saturday. His work schedule has been full in his first several weeks on the job traveling inside and outside of Idaho, meeting the university's constituents. He says he's found a large reservoir of goodwill toward the university in his travels, but believes the school can also expand its outreach efforts/Glenn Mosley, Boise State Public Radio. More here. (UI photo: Don & Karen Burnett)
Question: Marc Johnson/The Johnson Post tweets: "ID Bd. of Ed could save time/money and just make the talented Don Burnett the U of I's permanent president." Do you agree?
---
---