Fri., July 12, 2013, 4:40 p.m.
Nic: Hot Weather Be Gone
I've come to accept that SAD (seasonal affective disorder) is true and valid. Some people do develop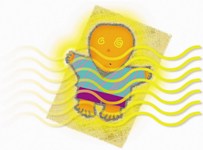 symptoms similar to depression when the seasons change. Most people experience this in winter when the days are shorter and the sun doesn't come out to play as often. Most people attribute their emotional state to increased clouds and rain. However, whatever SAD is, I'm the opposite. I don't like spending time in the sun. My body does not handle hot weather. All summer long, all I can think is that there's a dark basement and an air conditioning unit calling my name. I'm a winter person. I often tell people that I'd rather shiver than sweat. When it's cold out, you can always add another layer to get warmer. But when it's hot out, there's only so many layers that you can take off/Nic, Rants, Raves & Random Thoughts. More here. (AP file illustration)
Question: Are there any other summer haters out there?
---
---