Fri., July 12, 2013, 2:59 p.m.
Tampons, Not Guns, Confiscated
State troopers confiscated tampons and maxi pads from people entering the Texas Senate gallery on Friday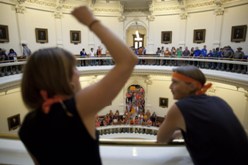 afternoon as senators began debating a controversial new abortion regulations that are almost certain to pass. However, folks with conceal-and-carry permits are allowed in with their guns, as state law allows. It seems like an unusual threat analysis, but things are different in Texas. The tampon confiscations were initially reported by the liberal Texas blog Burnt Orange Report and others entering the state Senate. State troopers said they were taking anything that could be thrown at legislators, which included tampons, maxi pads, sugar packets, and condoms. But guns are still a go/Elspeth Reeve, Yahoo! More here. (AP photo: Hallie Boas and Lisa Fithian lead abortion rights chants from the third floor of the Texas Capitol Rotunda in Austin, Texas, this afternoon)
Question: Have we entered Alice's Wonderland?
---
---