Thu., July 18, 2013, 8:14 a.m.
Spokane Gets Hydroplane Invite
A pair of Diamond Cup Regatta organizers with an H1 Unlimited hydroplane in tow pulled into downtown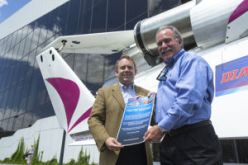 Spokane Wednesday to extend an invite. Why? Because fans of 200 mph hydro racing set to return to Lake Coeur d'Alene Labor Day weekend should come from all walks, if not states. So what say you, Spokane? How does a short trip east sound for the long, hot holiday weekend? "Coeur d'Alene has the resource, the lake, the body of water to host it, but without the support of the city of Spokane, there wouldn't be a Diamond Cup," Doug Miller, Diamond Cup board chairman, told Spokane Mayor David Condon shortly before giving the second-year mayor a bottle of champagne/Tom Hasslinger, Coeur d'Alene Press. More here. (Gabe Green photo: Doug Miller formally invites Spokane Mayor David Condon to the Diamond Cup hydroplane races Wednesday)
Question: The more the merrier?
---
---