FRIDAY, JULY 19, 2013, 8:43 A.M.
Event Center Challenge: Raise $5M
To build an event center in Riverstone, North Idaho College will have to break its fundraising record. The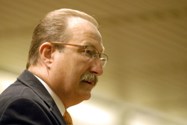 college's president thinks it can. Not only that, but he thinks NIC could secure the $5 million total in about a year. "I'm absolutely confident we can raise that," NIC President Joe Dunlap told The Press Thursday. "I do have some commitments. I can't tell you who from or for how much, but we do have some commitments." The $5 million would go to operational costs to run a multi-use event center in Riverstone off Seltice Way. On Wednesday, the city's urban renewal agency, Lake City Development Corp., agreed to fund $10 million to help build the arena. But before the college can capitalize on LCDC's pledge, it would have to raise and spend $5 million on the project first - a college record/Tom Hasslinger, Coeur d'Alene Press. More here. (SR file photo: Joe Dunlap)
Question: Do you think North Idaho College can raise $5M in private donations to match $10 from urban renewal, to build an Events Center?
---
---