Fri., July 19, 2013, 2:53 p.m.
Group Rips Simpson For Stones Show
The political silly season is off to an early start with the anti-tax group Club for Growth throwing its financial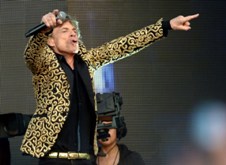 weight behind Idaho Falls lawyer Bryan Smith in his challenge to eight-term GOP Congressman Mike Simpson. Among Simpson's outrages, says the club, is attending a 1999 Rolling Stones show in the MCI Center skybox of a Washington, D.C., lobbying firm. Simpson and his Oregon colleague, GOP Rep. Greg Walden, paid $165 for the seats, a step they didn't need to take under House rules. Having ponied up for the ducats, it appears Simpson's true transgression is showing an interest in Mick Jagger and the boys/Dan Popkey, Idaho Statesman. More here. (AP file photo, of Mick Jagger)
DFO: Don't tell Club for Growth that I have several early Stones vinyls.
Question: Are. You. Kidding. Me? Does this type of nonsense play in Mormon-dominated southern Idaho? Or are already LDS friends more in tune with modern culture than Club for Growth?
---
---