Mon., July 22, 2013, 5:20 p.m.
Twitter Trending, Facebook Fading
If you want to know social media, ask a teen. Better yet, ask a bunch of them. A group of Spokane teenagers who took part in a social media engagement project at Hoopfest – the Digital Street Team – agree that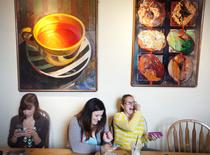 Facebook is fading and Twitter is trending. The team of 24 high school students was deputized to collect stories, photos and video at Hoopfest, and that material was posted to the event's Twitter, Facebook, YouTube and Pinterest accounts. Some of those teens, along with one of their social media mentors at Hoopfest, recently assessed the fast-moving social media landscape/Jody Lawrence-Turner, SR. More here. (Tyler Tjomsland SR photo: Jenna Carroll, 28, right, reacts as Chelsie Hadden, 22, shows her her phone while Liz Hooker, left, checks her phone for updates during a meet-up for social networkers last week at Boots Bakery in Spokane)
Question: How many of you have made the jump to Twitter or other social media beyond Facebook?
---
---