TUESDAY, JULY 23, 2013, 3:41 P.M.
NIdaho Militia Story Elicits Response
In response to a New York Daily News photo essay, published by the New York Daily News last week, human-rights activist Tony Stewart wrote to the newspaper. His message read in part:
"We were deeply concerned with the story yesterday in your newspaper that could give the impression that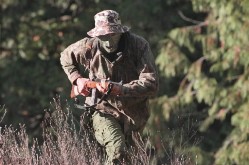 Idahoans are either supportive or that we at least ignore such groups as those in your story. We have a record of great opposition to such messages or activities. May we request that you go to our website and review our history of human rights stories and victories. We would deeply appreciate your review and we would be very willing to talk with one of your reporters. Our work has been covered by media from all over the United States and even some other countries. We have been interviewed several times over the years by the New York Times and most recently we were part of a human rights story in the Wall Street Journal regarding the passage of anti-discrimination ordinance in the City of Coeur d'Alene." Full letter here. (SR file photo)
Question: What do you make of militia activity in North Idaho's back woods?
---
---