Mon., July 29, 2013, 5:33 p.m.
GOTV Review: Art On The Green, Etc
Art on the Green is rather pretentious and snotty, with high-priced, useless "crap" that only Richie Rich bitches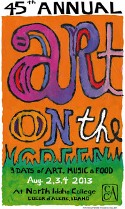 can afford to put on their husband's American Express Platimum cards and have two-day delivered via FedEx to their homes in Santa Monica. Kudos to the artists, apparently the same people year after year, who sit in their little tents selling their wares (and yes, many of them are quite talented) and have to deal with these snobs and also the HOARDS of other obnoxious people (and their wild-ass kids) who could never afford to buy any of their items even if they saved up their plasma donation money for an entire year. But then there is the food. And the music. Two solid reasons to actually spend an hour finding a parking spot and fighting the maddening crowds trampling the grass on the historic Fort Grounds area/OTV, Get Out! North Idaho. More here.
Question: What do you like/dislike most re: Art on the Green, Taste of Coeur d'Alene, Downtown Street Fair?
---
---