Tue., July 30, 2013, 8:39 a.m.
Pope On Gays: 'Who Am I To Judge?'
Item: Pope Francis on gays: 'Who am I to judge?'/Nicole Winfield, AP
Mike Kennedy: Two non-Catholics I talked with today separately told me that the read about Pope Francis's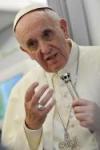 Brazil trip. Both were stunned and smiling when they expressed their positive feeling about this man and his comments. As a Catholic I told them that I believed this to be the feeling of so many of my fellow parishioners (and many loyal parish priests) who have suffered in silence or simply left the church over the past decades. There is a long road ahead and many man-made rules in the church with which I struggle. But I'm personally grateful for Pope Francis's serious steps of healing and outreach. I expect backsliding and word-parsing from less charitable clerics, but it's a start and every journey begins with a humble first step.
Question: How does the pope's statement about gays affect your view of the Roman Catholic Church?
---
---