Wed., July 31, 2013, 8:15 a.m.
Press: Celebrating Maj's Life
One of North Idaho's bright lights was snuffed on Friday. Maj StormoGipson, a highly respected pediatrician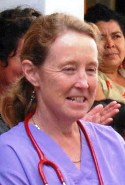 and outdoors enthusiast, died in a Salmon River kayaking accident. Just 57, she was surrounded by family on a six-day rafting trip. The word "brilliant" has been diminished in this age of cheap superlatives, but Maj StormoGipson was brilliant. Equally, and what made her so rare in North Idaho, she was compassionate. Maj and her husband, Justin, graduated from Dartmouth Medical School. Before they specialized -- Maj in pediatrics and Justin in ophthalmology -- they were general practice doctors for two years. As distinguished Ivy Leaguers they couldn't be blamed for wanting to rush out and recoup as much of their educational investment as possible, in as short a time as possible. But that's not what motivates them/Coeur d'Alene Press Editorial Board. More here.
Thoughts?
---
---