MONDAY, JUNE 3, 2013, 11:42 A.M.
Trib: Nellis Squandered Opportunity
Idaho needed candor from Duane Nellis as he departed the University of Idaho presidency on his way to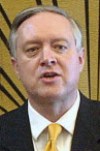 Texas Tech in Lubbock. Nellis didn't provide it. In a farewell essay published in the Idaho Statesman Tuesday, Nellis wrote: "If I could give one final piece of advice to my friends in the state Legislature, it would be to invest in these people (faculty and public employees). I would hope that your highest priority next year is CEC - Change in Employee Compensation." Faculty and state workers have taken it on the chin these past few years as first the bottom fell out of the state budget and then lawmakers opted to funnel what little new money they received into tax cuts for the well-off and corporations. But is that really the primary crisis facing Idaho education?/Marty Trillhaase, Lewiston Tribune. More here.
Question: Does Nellis leave behind any kind of significant legacy?
---
---