Wed., June 5, 2013, 1:27 p.m.
Beware Of Frozen Costco Berries
A frozen mixed berry product potentially linked to an outbreak of hepatitis A in seven states was also sold at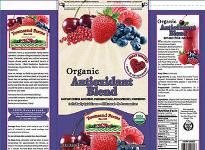 Costco stores throughout Idaho, the U.S. Food and Drug Administration (FDA) reported this week. Idaho has had no reports of illness associated with Townsend Farms Organic Anti-Oxidant Blend. Still, the frozen berry mix was sold from the Costco store in Coeur d'Alene since January 2013. The outbreak's first cases indicate the problem began at the end of January. Townsend Farms voluntarily recalled Townsend Farms Organic Anti-Oxidant Blend in 3 lb. bags with UPC 0 78414 404448. The recalled codes are T012415 through T053115 followed by a letter. The code is located on the back of the package. Costco has removed the berries from its shelves and has attempted to notify all customers who purchased the recalled berries. People who have any of the Townsend berry mix in their freezers should check carefully for the affected lot numbers and discard the product/spokeswoman Cynthia Taggart, Panhandle Health District. More here.
Question: Do you buy frozen fruit?
---
---