Wed., June 5, 2013, 8:28 a.m.
Vestal: Beliefs Misinform Sheriff Ben
Is sodomy against the law in Idaho? More to the point: If a law in Idaho violates the Constitution – as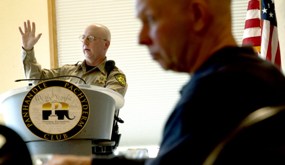 determined by the constitutionally created Supreme Court – is it still a law? If you want the correct answer, don't ask Kootenai County Sheriff Ben Wolfinger. And the fact that Wolfinger seems not to know, or maybe care, about the answers should give pause to anyone who thinks it's swell that Wolfinger wants to go all judge, jury and executioner on the Boy Scout troop his office sponsors. Wolfinger said last week that he's not sure the Kootenai County Sheriff's Office can continue its charter with the Boy Scouts, due to the Scouts' recent decision to stop discriminating against gay kids. Wolfinger based this qualm, in part, on Idaho's 1972 anti-sodomy law/Shawn Vestal, SR. More here. (SR file photo: Kathy Plonka)
Thoughts?
---
---