Thu., June 6, 2013, 8:45 a.m.
Aftermath; New CdA Law Opens Rift
Coeur d'Alene is the fifth Idaho city to bar discrimination based on sexual orientation following a heated community debate that exposed a deep divide on the issue. Human rights advocates, religious leaders,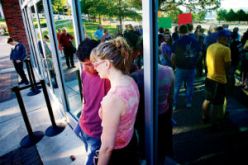 business owners, students and educators dug in Tuesday for a long night of testimony before the City Council. Shortly before midnight, councilors voted 5 to 1 to protect gay, lesbian, bisexual and transgender people from discrimination in housing, employment and public accommodations. The day after, some of those on the front lines spoke of moving on and bridging the rift. Others were disheartened, saying their words of caution fell on ears indifferent to their deeply held beliefs. "I think that the council members for the most part had already made up their minds before the meeting began," said a leading critic of the new ordinance, Paul Van Noy, the pastor of Candlelight Christian Fellowship and president of the Coeur d'Alene Ministerial Association. "The cry for equal rights was heard unequally," Van Noy said Wednesday/Scott Maben, SR. More here. (Jerome A. Pollos Coeur d'Alene Press photo: Shane Duffy and Dotty Quade pray outside of the Coeur d'Alene Public Library community room)
Thoughts?
---
---