Thu., June 6, 2013, 8:28 a.m.
Review: LCP 'Into the Woods' Swell
Classic fairy tale characters find their happy and not-so-happy endings in Lake City Playhouse's fantasy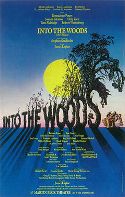 musical "Into the Woods." The show, with music and lyrics by Stephen Sondheim and book by James Lapine, challenges performers and musicians with its demanding compositions and lyrics. Director Troy Nickerson has assembled a solid cast that brings out the show's heart and humor. Many of the actors tackle the material head-on, singing their pieces with obvious joy. The feeling is infectious. The women in this production are a force to be reckoned with. Emily Cleveland (Baker's Wife), Madison Rasmussen (Little Red Riding Hood) and Renei Yarrow (Jack's Mom) give strong performances. Christine Mullaly's Rapunzel sings very sweetly in her tower. Aubrey Shimek's Cinderella is a delight to watch and listen to, especially during "No One is Alone"/Sandra Hosking, SR. More here. (Wikipedia photo)
Question: Which Lake City Playhouse performance was the last you saw?
---
---