Fri., June 7, 2013, 10:45 a.m.
McEuen Field Work Continues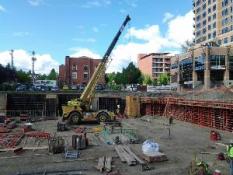 McEuen Update provides construction status for Sherman Avenue work and ongoing reconstruction at McEuen Park/Front Avenue today: "Harbor House construction has begun with the pouring of concrete for the foundation. The stem walls will be poured next week. Third Street improvements are well under way and on schedule. Curb, sidewalk and approach work starts today, June 7. Crushed rock will be applied to the road surface beginning Monday in preparation for paving. (McEuen Update photo)
Question: Have you ventured downtown to check out construction work?
---
---