FRIDAY, JUNE 7, 2013, 4:48 P.M.
Milennials Have Trouble Findng Work
They're uninsured, unemployed and, depending on whom you ask, ungrateful for what they have or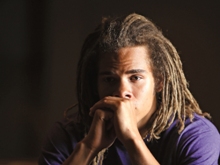 unprepared for what's ahead of them. Millennials — the teens and twentysomethings now in the process of forging their futures — are called spoiled and unfocused; they're said to be ruining the housing market, the tradition of marriage and their parents' pocketbooks. "Lazy, entitled narcissists," TIME magazine declared. "Who cares about a career? Not Gen Y," wrote Forbes senior editor-at-large Patricia Sellers. But they also seem faced with losing prospects at every turn — most obviously when they go looking for a job/Heidi Groover, Inlander. More here.
Question: Is the Milennial(s) in your family having trouble finding work?
---
---