Mon., June 17, 2013, 4:29 p.m.
Law Student Pleads To Hit-&-Run
Dressed in a blue shirt with a big white kitty on the front, 3-year-old Danika Packard sat on the courtroom bench eating cereal from a plastic baggy and smiling at anyone who caught her attention. The happy little girl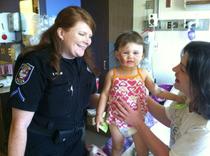 gave no indication of the horror she and her parents endured last year when a drunken driver struck her father, Danny Packard, as he rode his bicycle and ran over Danika, who was riding in a specially equipped trailer. The impact disintegrated Danika's helmet as the driver, Timmy Ngoc Nguyen, 23, continued back to the apartment where he and fellow Gonzaga University law students were taking part in "Beer Olympics." Tracy Packard was riding on July 21 behind and watched the 2003 Honda Element hit her husband and flatten the trailer carrying her daughter/Thomas Clouse, SR. More here. (Safe Kids Spokane courtesy photo: Spokane police Officer Teresa Fuller rewards crash victim Danika Packard for wearing her bike helmet with a free ice cream coupon from McDonald's)
DFO: I witnessed a hit-and-run crash in Portland Sunday, when a van clipped a parked SUV's driver side mirror and sped off.
Question: Have you ever witnessed -- or been victimized by -- a hit-and-run accident?
---
---