Mon., June 17, 2013, 8:11 a.m.
Long-Delayed CdA Project Starts Up
This may be one of the clearest signs yet the housing market is recovering in the Inland Northwest: A patch of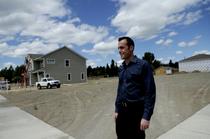 Coeur d'Alene hillside poised for new homes for eight years is finally under construction. Streets, sidewalks and utilities were put in back in 2005, but the 75-lot subdivision has sat unfinished. And that didn't go unnoticed, given the property faces Interstate 90 just west of the Northwest Boulevard-Ramsey Road exit. The vacant development has been used for rehearsing traffic stops by police officers in training. Student drivers have practiced their turns and parking skills there. And in winter, kids have found the slope an obstacle-free sledding hill/Scott Maben, SR. More here. (Kathy Plonka photo: Darren Ducote with Coldwell Banker talks Wednesday about the upswing of building at the Orchard Lands development in Coeur d'Alene)
Question: What other signs do you see that recovery is hitting the Inland Northwest?
---
---