Mon., June 17, 2013, 11:50 a.m.
Update: Ex-Mayor Ray Stone, RIP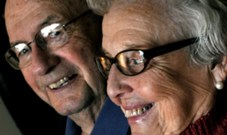 Former Coeur d'Alene Mayor Ray Stone, a World War II veteran, educator and jazz musician, died Sunday. Stone served on the City Council from 1971 to 1979 and served two terms as mayor, from 1986 to 1993. Al Hassell followed him as mayor. "He had a heart of gold that he protected with a crusty exterior," said Susan Weathers, the former city clerk. "He loved Coeur d'Alene, he loved to be an ambassador for the city of Coeur d'Alene." Stone taught at Coeur d'Alene High School and North Idaho College. As mayor he became active in the Kootenai County Task Force on Human Relations to counter the neo-Nazi Aryan Nations that had taken root in the county. In 1987, Stone and others accepted the Raoul Wallenberg Award, presented to the city for its human rights work. (Kathy Plonka SR file photo: Ray & Betty Stone in 2010)
Question: Do you remember when Ray Stone served as mayor?
---
---