Mon., June 17, 2013, 5:15 p.m.
Woman Quits Job To Back Sick Sister
A Spokane woman who shaved her head as a show of solidarity for her sister who has cancer quit her job at Northern Quest Casino after she was made to feel embarrassed for shaving her head. Friends and family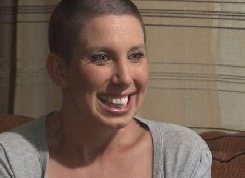 who shave their heads in support of cancer patients undergoing chemotherapy are sometimes told to cover up because their look is offensive. In this case Melanie Strandberg wouldn't stand for it, and her stand has sparked a firestorm of support from the worldwide cancer community. Melanie's sister Marissa has cancer. First it was ovarian but now cancer has attached her sister's colon. "She's amazing; she's the most amazing person I know," Strandberg said. Marissa's chemotherapy treatment starts this Thursday so, two weeks ago, to show her support for her sister, Strandberg shaved her head/Colleen O'Brien, KXLY. More here. (KXLY photo)
Question: Am I the only one here who thinks Northern Quest Casino botched this situation, big time?
---
---