Tue., June 18, 2013, 8:47 a.m.
Carlson: Otter Needs An Opponent
Idaho's political cognoscenti (a nice way of saying "junkies") would probably agree with the statement that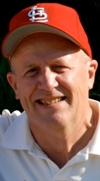 historically most of Idaho's outstanding governors first cut their teeth with service in the Legislature. Democrats like John Evans and Cecil Andrus, and Republicans like Phil Batt and C.A. (Doc) Robins come immediately to mind. Conversely, governors who have struggled to govern well and often clashed with the Legislature's leadership seldom have any legislative service or at best one term in the distant past. Current Gov.C. L. (Butch) Otter and former Gov. Dirk Kempthorne immediately come to mind. Politics is all about relationships and working with fellow citizens for the common good. It is not for the faint-hearted and as has been often pointed out it is a contact sport/Chris Carlson, Carlson Chronicles. More here.
Question: I agree with Carlson that Gov. Butch Otter needs an opponent (read: someone to send him into retirement). But I simply can't get excited about the prospect of a possible Gov. Labrador. Maybe the devil we have (who has badly damaged public education) is better than the one we'd get?
---
---