Tue., June 18, 2013, 8:15 a.m.
DJs Fired For Mocking ALS Victim
The cast of an Atlanta sports radio show has been fired after mocking a former NFL player who has Lou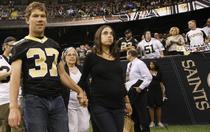 Gehrig's disease, a station official said Monday. The show, "Mayhem in the AM," was broadcast on 790 The Zone Monday morning. In a statement, General Manager Rick Mack said the station regrets comments made about ex-New Orleans Saints safety Steve Gleason (pictured). The 36-year-old suffers from amyotrophic lateral sclerosis. ALS patients lose the ability to speak and move, which has happened to Gleason. Gleason played for the Saints between 2000 and 2006. The Spokane native is an alumnus of Washington State and Gonzaga Prep/SR, AP. More here. (AP file photo)
Scootermom: "I don't listen to much radio anymore. I hate the banter that's usually offensive, sexist, juvenile and just plain not funny. I see that I've not been missing much."
Question: I consider the firings to be an appropriate response for the insensitive actions of the "Mayhem in the AM" crew. How about you?
---
---