Tue., June 18, 2013, 8:37 a.m.
Ex-Mayor Recalled As 'Feisty,' 'Kind'
Ray Stone was not one to back down from political pressures. "You always knew where he stood," Ron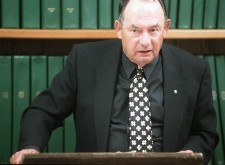 Edinger said of the former Coeur d'Alene mayor. "He was a very staunch Democrat - and he always let you know it. He stood by what he believed." Stone, Coeur d'Alene's mayor from 1986 to 1994 and a city council member from 1971 to 1979, died at The Hospice House in Coeur d'Alene Monday. He was 89. Stone was also a World War II veteran, the leader and drummer of a local band called The Ray Stone Swing Band, a teacher and a former dean at North Idaho College. Edinger, also a former Coeur d'Alene mayor and city council member who served with Stone, said Stone looked out for the "little guy or underprivileged person" "I lost a dear friend in Ray Stone and a good golfing buddy," Edinger said. "He was a feisty and kind-hearted man"/Brian Walker, Coeur d'Alene Press. More here. (SR file photo: In 1995, Ray Stone tells an audience at the Coeur d'Alene Library about his experience in helping liberate a Nazi concentration camp)
DFO: Feel free to share any other remembrances you have of former, two-term mayor Ray Stone.
---
---