Tue., June 18, 2013, 1:59 p.m.
Pork Bullets Target Extreme Islamists
A company based in Dalton Gardens have created "Jihawg" ammunition. The concept is to defend against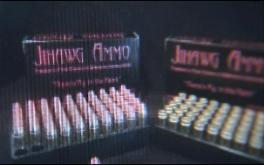 Islamic extremists and create "Peace Through Pork". According to Islamic law pork is unclean. Anyone who is considered unclean must go through a cleansing ritual. No unclean person will be accepted in to paradise after death. Jihawg claims to get to the root of extreme Islam & Jihad by putting the idea of paradise in doubt of extremists/Dylan Wohlenhaus, KHQ. More here. (KHQ photo)
Thoughts about 'Jihawg' ammo?
---
---