Tue., June 18, 2013, 2:26 p.m.
Sedation Eases Dental Procedures
Chuck Gamache's wisdom tooth was impacted, growing sideways in his jaw. It had to come out. This was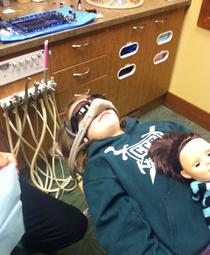 terrifying, considering Gamache's dental history: the pain of a childhood in-line skating accident that broke his front teeth, a young adulthood marked by soda pop and neglect that made him self-conscious. "When I got to the dentist, regardless of the situation, it would get to where I was almost hyperventilating, going into shock," said Gamache, 31, of Spokane Valley. "I mean, I was freaking myself out." Before getting his wisdom tooth out, he asked his dentist, Dr. James Hood, about "conscious sedation" – the use of drugs to ease anxiety before and during dental procedures. They settled on a three-pill plan, two to be taken the night before his procedure and one in the morning/Adrian Rogers, SR. More here. (SR photo: Sedation has eased dental procedures for Danyel Swenson, wearing an "elephant nose" delivering nitrous oxide and accompanied by her doll Grace at KiDDS Dental in Liberty Lake)
Question: How nervous are you before a dental appointment?
---
---