Thu., June 20, 2013, 2:14 p.m.
A Book In 2 Parts
I did something in the last month that I hadn't done before. I quit reading Stephen King's ha-huge "11/22/1963" tome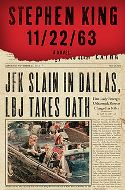 about halfway through a month ago because it seemed to drag too much. Then, I checked it out of the Coeur d'Alene Library prior to a four-day jaunt last week to visit Amy Dearest and Okie Doke in Portland. I couldn't put it down the second time around. The story tells of a teacher who goes back in time from the 21st centruy in an attempt to stop the assassination of John F. Kennedy. I have wondered, of course -- as many of my g-g-g-eneration has -- what might have happened if Lee Harvey Oswald had failed in his assassination attempt. Still I'm intrigued that I could rekindle a flame for a book that I'd put down. Which I rarely do. Once started, I tend to finish a book. How about you?
Question: Have you ever given a book a second chance? Do you read a book through, even if you don't like it that much?
---
---