Thu., June 20, 2013, 10:25 a.m.
County Wants To Shoot Dump Ravens
A handful of ravens may nevermore plague Bonner County's garbage collection site in Colburn. The county is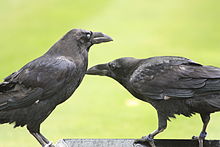 securing a permit from the Idaho Department of Fish & Game to shoot some of the crafty corvids to discourage them from raiding the site and strewing trash about. A couple of the luckless birds may be put on display as a warning to the survivors, a message that apparently is not lost on ravens, which are renowned for their intelligence. Dead ravens brought in for disposal have been displayed in the past, which has deterred other ravens from stalking the site, said Solid Waste Director Leslie Marshall. "When we hang one up in the trees they don't come around. It's like they get it, that it's not somewhere to go," Marshall said/Keith Kinnaird, Bonner County Bee. More here. (Wikipedia photo)
Question: Is this a good solution for pesky ravens?
---
---