Fri., June 21, 2013, 4:45 p.m.
Feds File Charges Against Snowden
A sealed criminal complaint has been filed against Edward Snowden (shown in AP/Guardian photo) in the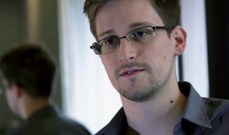 National Security Agency surveillance case, a Justice Department official said Friday. The official declined to specify the criminal charges against the former NSA contractor who has admitted providing information to the news media about two highly classified NSA surveillance programs. The official, who spoke anonymously, was not authorized to discuss the ongoing investigation by name. The Washington Post quoted unnamed officials as saying that Snowden was charged with espionage, theft and conversion of government property/Associated Press. More here.
Question: Do you consider Edward Snowden a hero or a traitor?
---
---