Fri., June 21, 2013, 8:14 a.m.
Summer Rain Hits INorthwest
Drenching rain and record cold ushered out the last day of spring, but to some, this week's weather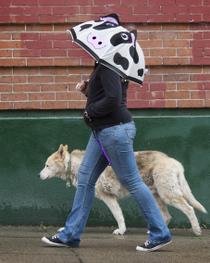 represents a "million dollar rain," arriving in time to nourish grain crops and dampen potential forest fires. John Abatzoglou, assistant professor of geography at the University of Idaho, said he believes the rain is worth well more than a million bucks. "This is very beneficial," Abatzoglou said Thursday afternoon. "This is in just the nick of time." Rain that started Monday continued through Thursday and brought an inch of precipitation to Spokane. Even more rain fell in other parts of the region. It arrived on the last day of an Inland Northwest spring that until this week was 2 inches below normal for the April-through-June period/Mike Prager, SR. More here. (Dan Pelle SR photo: Heather Chisholm and her dog, Lord, try to stay dry during Thursday's downpour in downtown Spokane)
Question: Do you enjoy summer rain?
---
---